REACTING TO MY STUDIO GRADE - WHY I DON'T CARE ABOUT MY RESULTS?!
I was eating dinner when I saw an email that my studio results had just been released. I decided to record my reaction and explain why I don't care what grade I get ( and why you shouldn't either).
This is a follow up from the last Life of an Architecture Student episode where I shared my live studio critique that I presented to my class over Zoom.
If you want to check it out, you can watch it on Youtube by clicking here.
Or, Stream On Your Favourite Podcast Platform!
"It's okay to get a bad grade or make a mistake – but it's not okay to fail the same thing or make the same mistake twice."
Why I don't care about my results in Architecture School (and why you shouldn't either)
I've explained in another video why I don't care about my grades in architecture school.
I wanted to showcase what I mean by this by reacting to my grades LIVE.
Quite often, as students, we get disheartened when we receive a grade lower than expected. I think it's so important to not let this happen.
A habit consistent across successful students is to accept the grade you've been given and use the feedback to learn for next time.
It's okay to fail or make a mistake – but it's not okay to fail the same thing or make the same mistake twice.
That's what it's all about as an architecture student. You'll come across things you're unsure of, stressful situations and difficult times. If you don't learn from these hardships and if you focus more on the grades you receive, rather than the information you learn, it's difficult to become better at what you do.
In the end, what are grades anyway? Why do they matter?
They were originally created so that we can track our education against standard benchmarks.
But everyone learns at their own pace. Everyone has different interests and different roads they want to explore.
It's not fair to judge yourself based off a system that means virtually nothing.
It'll be much more advantageous to create your own criteria and create your own system to grade yourself based off how much you're learning and producing.
It's up to you! Do you think you produced enough work? No, why not? Do you think your work was at a high enough standard? If not, why?
Although it's no fun judging yourself, it's so important to be aware of what you're learning.
Instead of using a generalised system to beat yourself up for if you fall short, try not caring so much about your grades and put that attention into learning information and practical skills that will benefit you in your career, in this long journey called architecture.
If you want to hear a professional architect with 10+ years of experience, who is also a course-coordinator at my university talk about this, check out part 2 of the interview with Chris Morley.
My aim is to help other architecture students succeed in their education so they can later on succeed in their profession.
Help me help others by sharing the podcast with your friends!
If you have iTunes on your computer, or the "Podcasts" app on your Apple device, can you please take 1 minute and leave me a quick rating and review?
To do so, just follow the instructions below:
Reviewing on your Apple device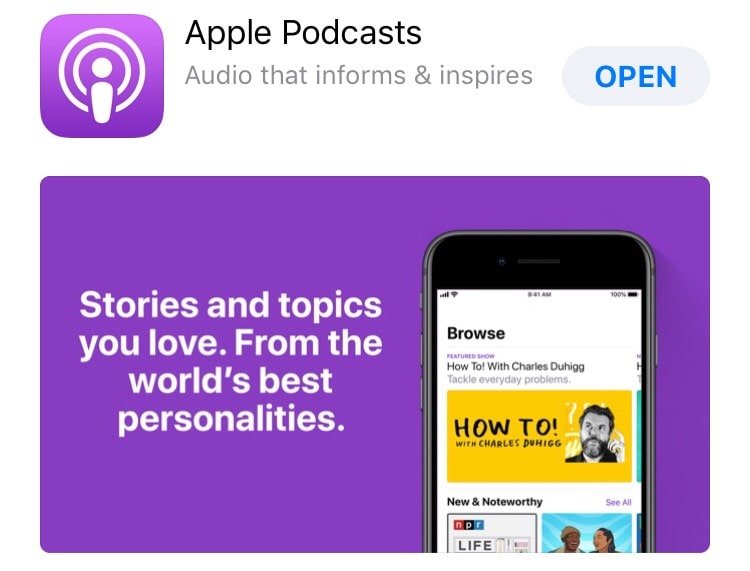 2) After clicking the link above, the Podcast app will open to this page.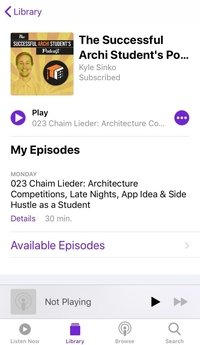 3) Make sure you are subscribed!
4) Scroll down a little bit and leave an honest review of what you think about the podcast for architecture students.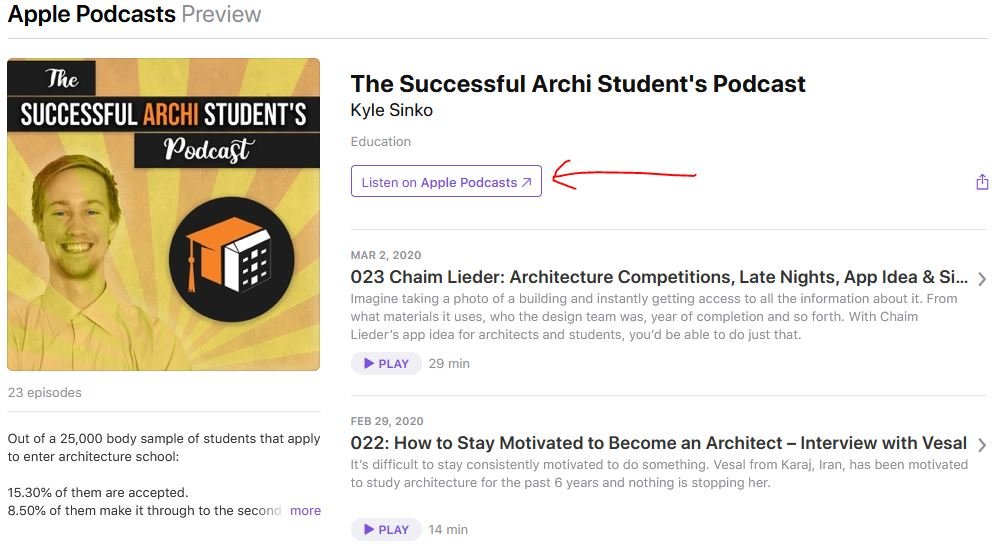 2) Scroll down and leave an honest review about the architecture student podcast.
That's it! Just click submit and you are done!
Thank you so much! I really really really appreciate all the support and your help in getting the Successful Archi Student name out in front of the iTunes audience!
(P.S. If you leave us a review, respond in this thread so I can personally thank you!!)