Networking as an Architecture Student
Networking is everything as an architecture student. It's not what you know – but WHO you know.
In this episode, architecture student Christopher Johnson talks through his experiences with local networking events, his participation mentoring students, his involvement with the Canadian Architecture Student Association and various other groups and boards.
Chris and I also talk about life as a student at a brand-new university in Canada, what it's like studying, our best tips and advice for other students and overall just have a good chat about becoming better students.
Or, Stream On Your Favourite Podcast Platform!
"

I'd say one thing that you could do. . . actually go up to the speaker and say

"hi my name is . . .  and I really appreciate what you've been doing. If you're ever looking for someone to be on your design team I would so appreciate your consideration."

 

Students don't realize a lot of times when architects get these cover letters and resumes and all these emails  . . .

 

It's just so professional.

You need to let loose a little bit and that's what some of these events do for you.

"
My aim is to help other architecture students succeed in their education so they can later on succeed in their profession.
Help me help others by sharing the podcast with your friends!
If you have iTunes on your computer, or the "Podcasts" app on your Apple device, can you please take 1 minute and leave me a quick rating and review?
To do so, just follow the instructions below:
Reviewing on your Apple device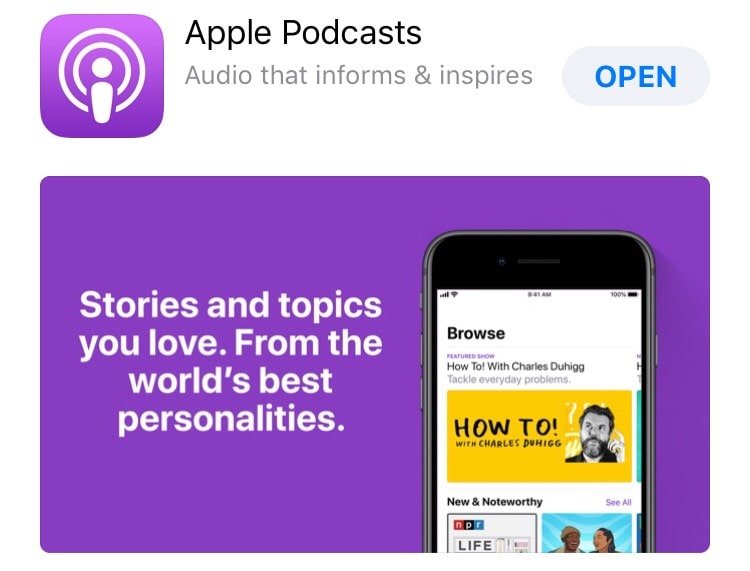 2) After clicking the link above, the Podcast app will open to this page.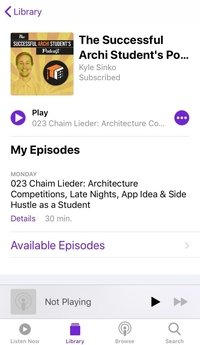 3) Make sure you are subscribed!
4) Scroll down a little bit and leave an honest review of what you think about the podcast for architecture students.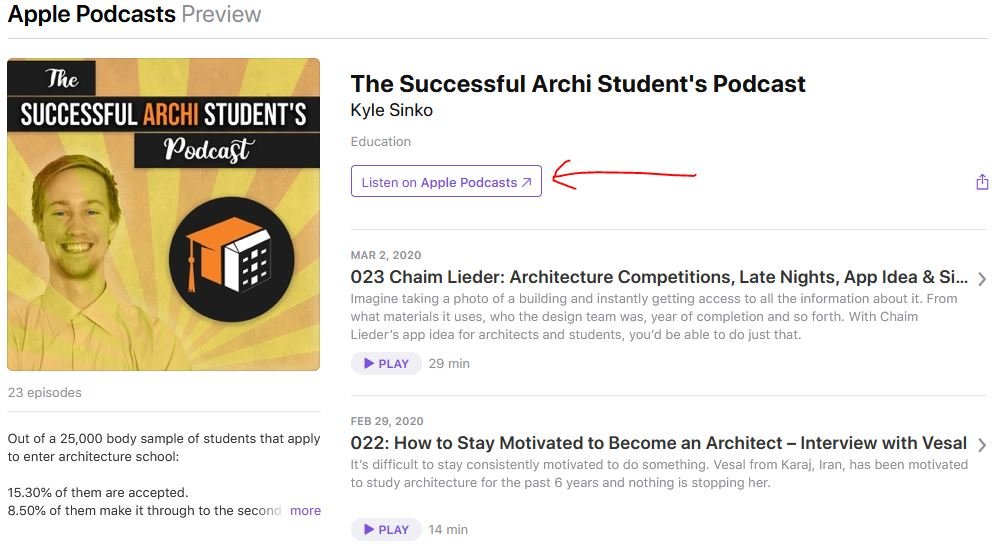 2) Scroll down and leave an honest review about the architecture student podcast.
That's it! Just click submit and you are done!
Thank you so much! I really really really appreciate all the support and your help in getting the Successful Archi Student name out in front of the iTunes audience!
(P.S. If you leave us a review, respond in this thread so I can personally thank you!!)