Revit Intermediate Course – Tutorials to Learn Revit Fast
Description
After completion of the Beginner's Revit Course, you're ready to upgrade your skills and toolset using the industry's leading 3D software, Revit.
Let's face it. Learning software is often complicated and difficult and doing it by yourself makes it even harder! It doesn't need to be that way. In this course, you will be learning from a Master student who has practical Revit experience across four architectural firms (which all use Revit as a main design and documentation tool). You will be able to follow along to learn the skills and confidence you need to use the software efficiently in a professional setting.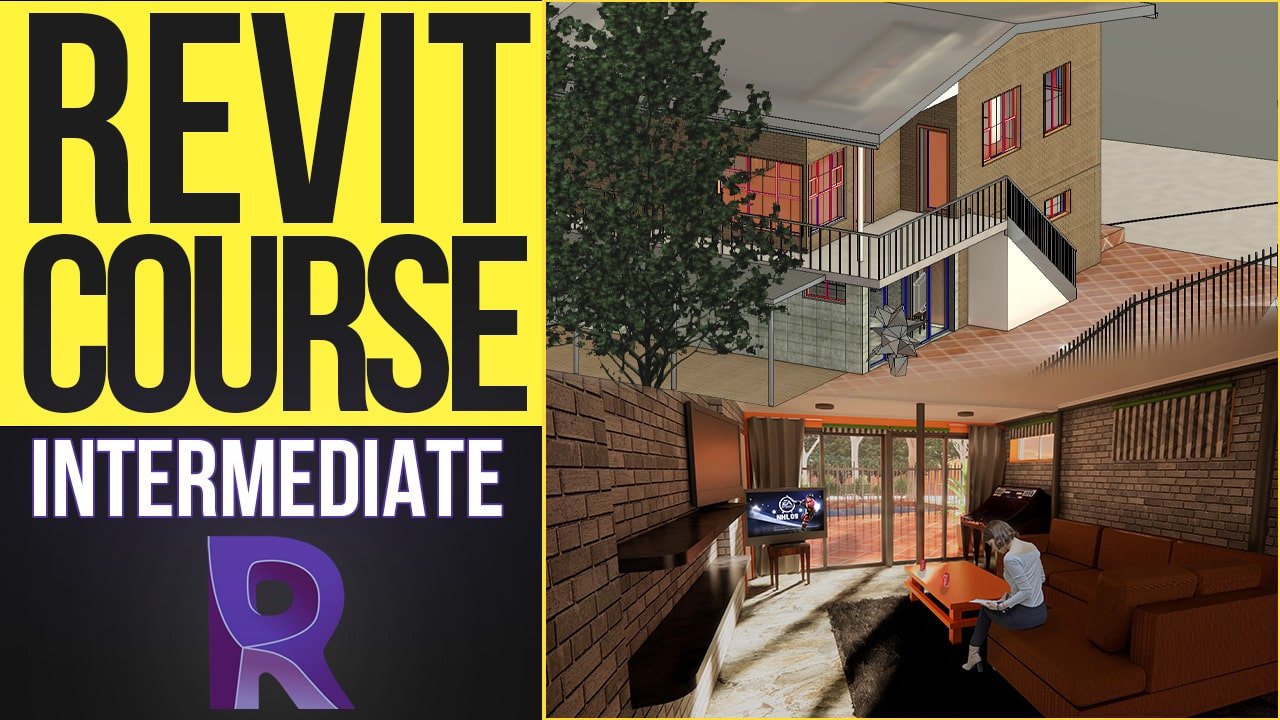 You can spend days, weeks or months learning Revit by yourself, and not necessarily learning it the right way. In Kyle's 4-hour course, you can fast-track that journey to gain the skills to design and model in Revit at a professional level.
Most online Revit tutorials or courses are boring, slow going and demonstrate incorrect practices. If you've watched Kyle's videos before, you'd know that these Revit tutorials are fun, fast and easy to follow.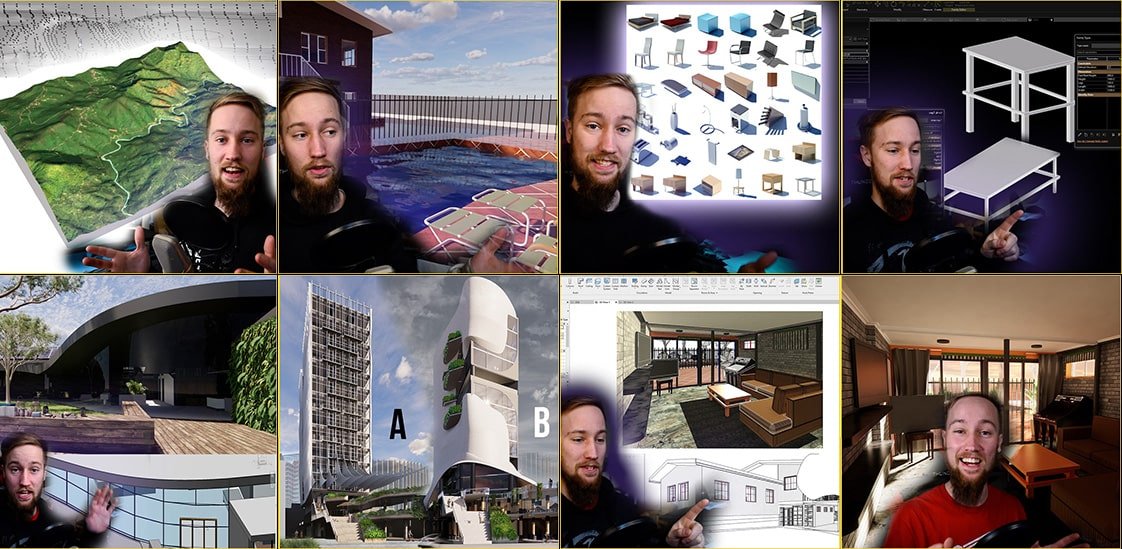 What Will I Learn?
You'll upgrade your skills to design and model confidently in Revit.
You'll improve your overall skills and knowledge of 3D modelling, architecture and design.
You'll master Topography in Revit, focussing on toposurfaces, subregions, graded regions, building pads and site components.
You'll learn how to model an outdoor fenced pool area in Revit.
You'll discover my 5 best methods for sourcing Revit families.
You'll learn how to use the family editor and the tools available with it.
You'll learn how to create your own custom parametric families.
You'll learn how to create curved walls and be introduced to curtain walls.
You'll learn how to manage your project with Design Options.
You'll learn how to create and produce internal and external 3D renders and perspectives in Revit.
You'll learn how to create and manage custom materials in Revit.
You'll learn how to create intricate floor skirting and ceiling cornicing.
You'll learn how to create organic masses in Revit such as curtains.
You'll learn how to create fur in Revit.
You'll learn how to create a parametric roller shade.
You'll be taken on a complete course of Enscape inside Revit to produce quick, beautiful renders.
You'll finally learn how to place views on sheets, setting up for the advanced course.
Course Files
All of the course resources in one place.
Topography
Master topography in Revit in this full topographic lesson. Create toposurfaces in under a minute, learn how to use subregions and graded regions to create paths and cement your model into the topography with a building pad.
Outdoor Fenced Pool Area and Shed
Learn how to model and render an outdoor fenced pool area and shed. This will come in useful for our interior render later that overlooks this pool area.
Sourcing Families
Discover 5 of my favourite websites and programs to source high quality Revit families. This will allow you to find any family you need for a project.
Creating Families
Can't find the perfect family? No worries, you can make it yourself! This is a full course in itself to create parametric families in Revit. You'll learn how to create a parametric table.
Curved Walls, Curtain Walls, Massing
In this section, we discover editing masses and curtain walls, specifically a curved swept curtain wall. This will introduce you to modelling with the in-place mass editor.
Design Options
This lesson will introduce you to design options. Design options allow you to test designs temporarily without damaging your model or workflow.
3D Views
Master 3D views to create perspective drawings and renders.
Interior Modelling
To produce a high quality interior render, we need to model components such as curtains, fur rugs, cornicing and more. These intricate details will improve your renders as well as upgrade the tools available to you in Revit.
Enscape Render
An in depth lesson teaching real time rendering in Enscape.
Bonus Tips
20 Bonus Tips and Tricks I wish I had known earlier
About the instructor
Kyle is a fifth year Master of Architecture student with experience in commercial and residential architecture and design firms. Kyle has been teaching architecture online since 2019.