[Sticky]

Share your work and get it featured on the instagram page, podcast and website.
Topic starter
15/12/2019 2:59 pm
Proud of a recent project you've completed?
Don't keep it to yourself, post it on the forums!
This forum is dedicated to recognising and praising amazing work done by amazing students.
If you've done a project you're proud of, feel free to create a forum post with a summary of your project, photos of your models, renders, sheets and any of your work.
Feel free to discuss/critique each other's work in the comments as well! As long as it's constructive feedback and you're not taking a stab at someone's hard work for the sake of progress and getting better.
Most of you might know that I love sharing your work on the @successfularchistudent Instagram page too . . .
I don't necessarily always post 4th and 5th year projects. I love sharing first year, second year through to graduate work. If you've done something you're proud of, then I would love to share it to the thousands of students connected to the Instagram page.
Good luck!
Kyle
Hi everybody! Mi name is Tomás Dutra, 21 years old, I have recently passed to my fourth year of the career. You could see me on my Instagram page: @tomidutra.
First of all, I just want to said that I m really grateful to could share my project here.
Secondly, I had to design the project making a relation with paisajism and made an interpretation of this. At the same time I d to base it with a fragment of a poesy. And using the diagrams.
the project is in the city of Concepcion of Uruguay in Entre Rios, Argentina. The place is surrounded by de river, clubs, the port zone, so I analyze the activities and how they relation in different forms, moments of the day, with different intensities. What I choose to justify this is a fragment of the book of the philofer Deleuze and the pshycoanalist Guattari "Mil mesetas" (thousand mesets)of the text "máquinas de guerra"( "war machine") where it says ..."sistema infinito de flujos y cortes de energía y materia que pasan de un cuerpo a otro..." (in Spanish) the interpratation of that is that one machine modify other, that there is a battle for the opportunities, the event generate by bodies.
Well this is a mini summary.
if you like it you could ask me by Instagram or here I m going to read the commentaries. 
here you can see all the material

 

https://www.instagram.com/p/B5TfyWvFajl/?igshid=9jnn4m3duymy
Topic starter
23/12/2019 12:32 pm
Thanks for sharing Tomás!
It's beautifully rendered but even more so I love the model.
It's really cool how you've added animation into your fly through video. What software did you use to do this?
I think I have already shared this project on my Instagram story before but I think I'll have to share the photos of the model on my feed, because it's awesome!
Hi! Thanks for this amazing word! It's an honor for me could publish my projects here and had some opinions. 
I personally use Lumion for renders or twinmotion, in this case I used Lumion.
Sure mate! I will send you some pictures in instagram if you want to publish. I'm really grateful.
Best wishes.
Topic starter
29/12/2019 3:25 pm
@Tomas Dutra
I need to start playing around with Lumion. Looks brilliant.
Thanks for sending through the images, and sorry for the late reply!
Hope you had a good Christmas and enjoy the new year.
Kyle
Topic starter
30/12/2019 11:47 am
@Ivan Belemezov
I love the hand drawn submission!
Well done Ivan.
Kyle
Hi, I'm Barbara Urmossy, I'm 20 and a Y2 undergrad archi student at the University of Cambridge. My insta is @burmossy.
In my studio, we had to design something for the Port of Felixstowe (the biggest container port in the UK). I went with designing an Illegal Immigration Registration Centre after reading government reports that illegal immigration numbers are increasing and there is an issue of not having a facility to deal with such cases.

Brief description:

The design aims to detraumatise the illegal immigrants found in containers, thus making the asylum seeking process easier for both the immigrants and the authorities.

The building seems smaller at first glance than it actually is to make it less intimidating. The Waiting Area has views of all the steps of the process, so it is easy to understand even if communication with employees is not possible.

Trauma Informed Design was a driving force of the project, informing spatial and material decisions. Sense of space and freedom was also important: after being in a small drark box with circa 30 people it would be welcomed.

Made using AutoCAD, physical model and Photoshop.

Here's more info on the work & how it looks like etc:  http://burmossy.com/work-single%20y2p1.html
Hope you guys like it  😊 😊 😊 😊 
Topic starter
31/12/2019 9:04 am
@Barbara Urmossy
Welcome to the community Barbara!
Wow!
The way you addressed the brief with this project is outstanding. Your website/portfolio is very neat too, you've got a bright future ahead of you.
Thanks for sharing your work, I can't wait to see more :.)
Kyle
@kyle-sinko thank you!!
Thanks for creating this community, too! Amazing work 😊 👍 
Topic starter
01/01/2020 8:16 pm
@Barbara Urmossy
It's absolutely my pleasure.
You're the best! =D
Hello, I'm narjes and I studied architecture and now I'm an Interior design student. For more details about this project please check my Instagram.
My Instagram page: @narjes_alagheband & @narjes_alaghehband 
*
Architectural/ Interior Design project 
This project got the First Place award in Interior Design
The Dome is an Immersive digital center which allows people to experience many different interactive areas. The goal was to show the combination of digital world and natural world. This center gives people choices and plays with their senses.
Hope you enjoy it!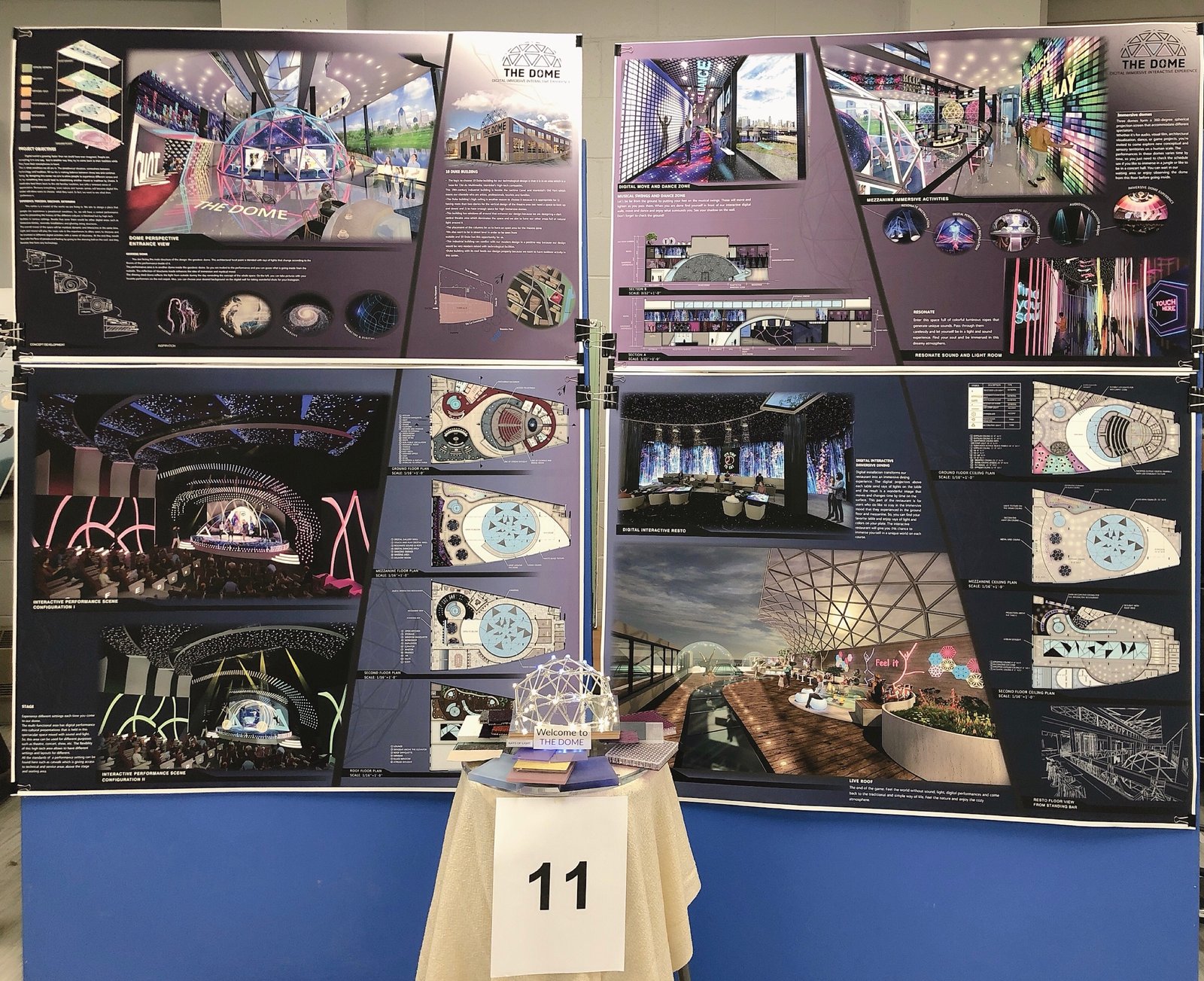 This post was modified 1 year ago by
Narjes
Topic starter
05/01/2020 3:22 pm
Thank you for sharing Narjes! It's such a good looking project.
Did you do it all by yourself or was it a group project?
Either way, it looks amazing! I just shared it on the Instagram page.
---
---
hello, i am shekinah, here is the synthesis of my end of study work in architecture 2019, "learning center" in kinshasa DRC,.  this project received a distinction from the jury.  it was designed to provide local students with a place to work and study in full communion with nature.  I hope you would like it.


Topic starter
09/01/2020 9:58 am
Welcome Shekinah!
Well done, and congratulations on the distinction.
I really like your renders. What program did you use?